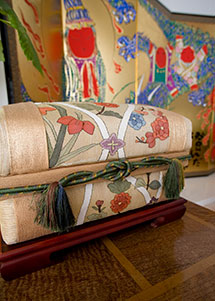 A Chabako (Tea Box) is an excellent wooden storage box
lined with tin, traditionally used in Japan for storing tea leaves.
They provide excellent protection against humidity,
insects, and are also very effective at
keeping things smelling fresh.
For decades, people in Japan have used these boxes to store not
only tea leaves but almost anything else as well.
An "Interior Chabako" enhances a Chabako into an original
furniture item or ornament piece by adding padding for
comfort and covering it with fabric. By doing this, the
Chabakos can come out of the closet
(where most were traditionally kept in Japanese homes)
and transform into some of the mostbeautiful storage space in homes.
Obi, Kimono, Blue and White, Curtain textile, Silk.....
All sorts of fabrics from all over the world have been adapted by
the Interior Chabako Club for use over the years.
We have also developed many kinds of rope work decorations and tassel/fringe accessories.
There are 22 box sizes available.
2 of which are our original sizes (1KS and Stool).
The Chabako boxes we use are made from
Japanese Cedar tree produced in Shizuoka prefecture.
The Interior Chabako Club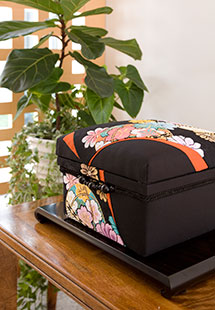 The fabric covered Chabako is a craft that has been
quite popular among the foreign community in Japan
for over 40 years. Masumi, our president, first came across
this craft in 1998 in the home of an American lady and fell in love with it.
She made so many fabric covered boxes after that,
they became well known to her friends. Surprisingly,
this craft was almost unknown among the general
Japanese population, who perceived Chabakos as simple
storage boxes. Some covered Chabakos with washi papers,
but covering them with fabric was a new idea.
Masumi named the craft " Inerior Chabako" to best explain
what it is. Gradually the number of people who have learned the
craft from her increased. Masumi and a few friends got together and
formed a club called "The Interior Chabako Club" to further promote
Chabako craft in homes across the country, both foreign and domestic alike.
Currently, the fabric covered Chabakos are getting to be known
among many Japanese, thanks to Masumi and the Club.
With over a decade of experience and as the pioneer to introduce
this wonderful craft into the Japanese community,
the Interior Chabako Club guarantees the best quality in its
product line and first class service in classes.