Interior Chabako Club HATANODAI Class Details
It is a lesson menu of Interior Chabako Club Hatanodai class. In small classes of up to 6 people maximum. We will support carefully, so you can attend with confidence even beginners. What you need, such as cloth and tools also are aligned in the Hatanodai classroom.
Interior Chabako Lesson
Regular Course

Make one box in a day(1DAY Class). or make one box in two half days(2DAY Class). You can choose the size of the box you would like to make. (We recommend sizes under 20K for beginners). You can bring in your own fabric, or purchase from our fabric selection in the class. depending on the size of the box. (incl. Lesson Fee, Box & Materials/ excl. Fabric & decoration,tax) For beginners, we recommend not to use fabrics that has directions in patterns or need matching of patterns. Check the schedules in "Class Schedule" Page.
COST:15,500yen(1K size)〜 ※Please refer to This Page.

Package Course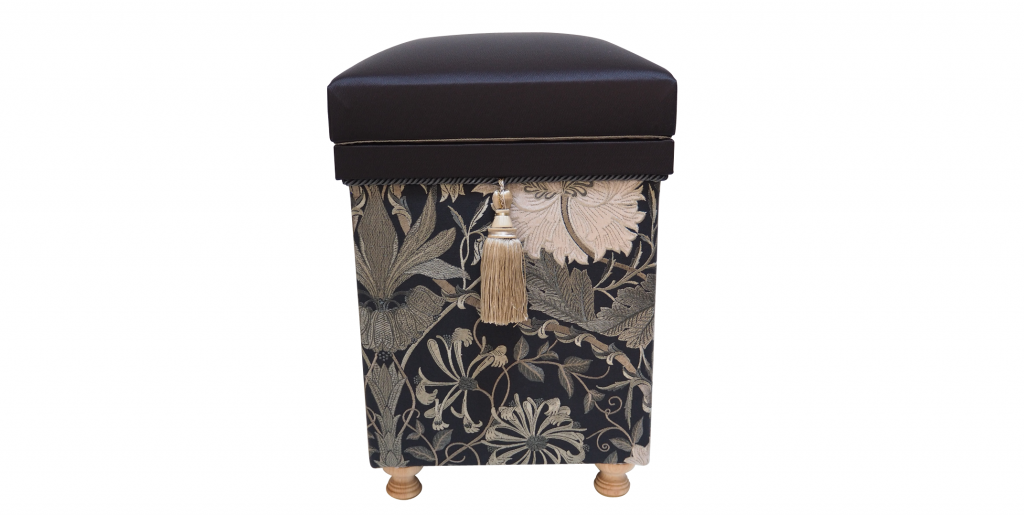 Make your choice from the 8 different fabrics & decorations.Make one box in a day(1DAY Class). Everything will be prepared for you at a special price. The size of the box will be 5K /10K/STOOL.
COST:22000 yen(5K size)〜 ※Please refer to This Page. (included Kit,Fabric,Basic decoration. Not including tax,extra decorations.)
Private Lesson(1~5 persons)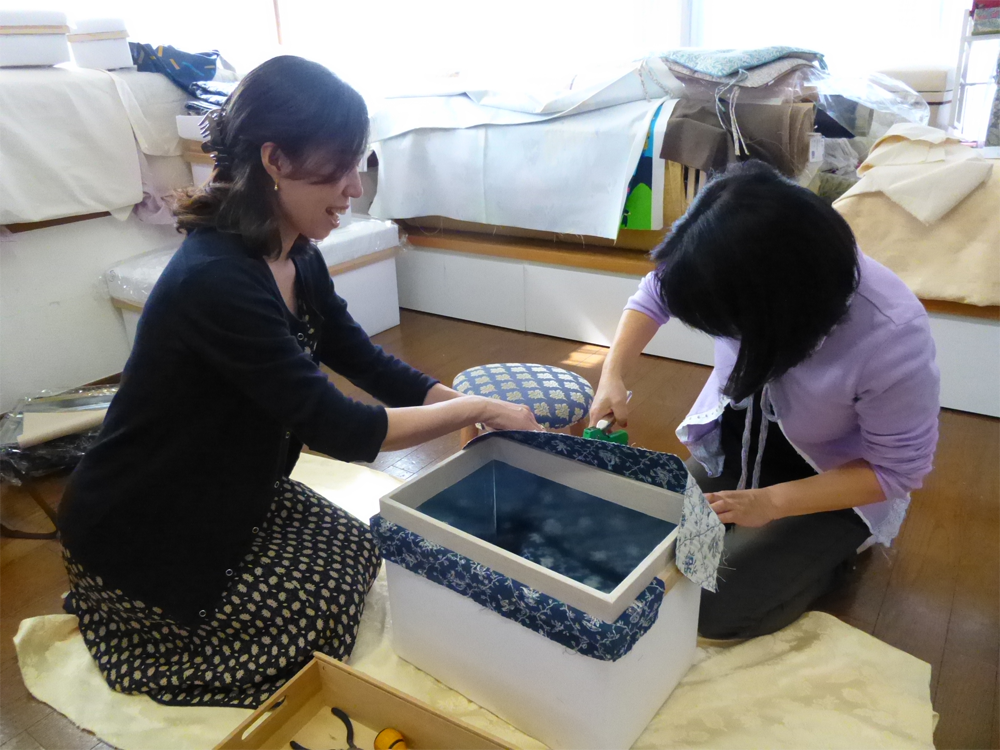 There is a Private Lesson Fee charged per Group (Not per person).
1 persons 10,000 yen
2 persons 15,000 yen
3 persons 20,000 yen ※Please refer to This Page.
Yuttari Cource(Custom Made Class)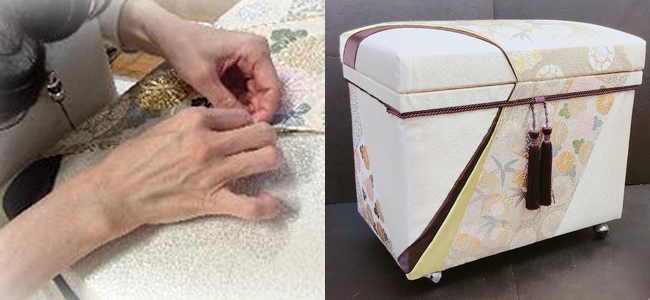 Make one box in a day(2~3DAY Class).This course is to get through it several times.
For people who want to make in a kimono and obi.
COST:17500 yen(1K size)〜 ※Please refer to This Page.
Chabako Lining

We offer the LINING CLASS (put lining inside the chabako box. Up to 20K only. Should you wish to have larger boxes lined, we would take orders) Lining has to be done before the fabric covering Chabako Class. Class Fee 4400~5500yen plus fabric for lining.
Please contact us for more information.
Access
〒142-0064 6-10-15 Hatanodai, Shinagawa-ku, Tokyo, Japan
TEL:03-6421-5257 Fax:03-3786-8429
info@chabako.jp
Available Mondays to Fridays 10:00~17:00JST (UTC+9)
Closed on Saturdays, Sundays and public holidays